Who are we and how did we get started ?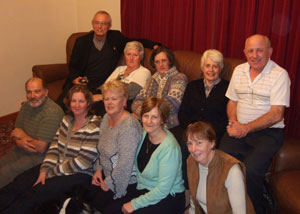 Fr. Tim on a recent visit to Ireland seen here with founding members of the Zimbabwe Rural Development Trust and some of the charity's volunteers.
Our charity consists of members from Ballina (Co. Tipperary), Dundalk (Co. Louth) and Naas (Co. Kildare) who came together to raise funds to enable Fr. Tim to undertake much needed projects in his parish of St John's Mission, Makwa, Hwange.

What are we trying to do and why ?
Our aim is to raise funds for developmental projects in Hwange, Zimbabwe. All money collected goes directly to the charity, without any stoppages.
Water shortages are one of the main problems facing the people of Hwange and building dams has been a way of helping to alleviate that problem. Matebeleland North, and in particular the Zambezi valley, is an area of low rainfall. The people there are classified as subsistence farmers as the soil is very poor. Dam building helps with the water shortage situation. If you give people water you help to give them life. Fr. Tim's policy is to never send anyone away empty handed.
In 1991 Fr. Tim had an engineer survey a very suitable site for a large dam but was without the necessary funds to start this project. In 2004 we set about raising these funds to enable this project to get off the ground and it is now nearing completion. There is still a great need for many more dams to be built in the region.